"This post contains affiliate links, and I will be compensated if you make a purchase after clicking on my links."
The J.M. Smucker Company is initiating a recall of certain cans of their Gravy Train®, Kibbles 'N Bits®, Ol' Roy®, and Skippy® Wet Dog Food products after due to the presence of the euthanasia drug, pentobarbital.
A letter sent to retailers (acquired by TruthAboutPetFood.com) on February 14, 2018 said:
The J.M. Smucker Company is initiating a voluntary withdrawal of a limited quantity of Gravy Train®, Kibbles 'N Bits®, Ol' Roy®, and Skippy® Wet Dog Food products after learning specific SKUs did not meet our specifications because a minor ingredient may contain low levels of pentobarbital. This is not a threat to pet safety. Although the extremely low levels do not present a health or safety risk, their presence in our products is not acceptable to us.
Recalled products include: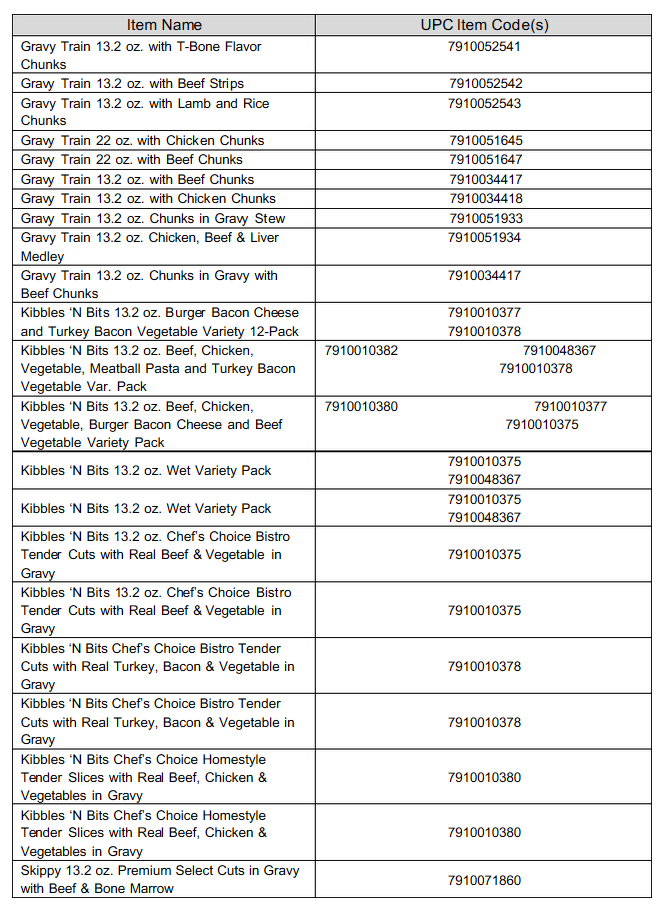 UPDATE: On 2/15/18, Ol' Roy was added to the withdrawn product list: Ol' Roy Turkey/Bacon 13.2 oz/12 pack cans with UPC code: 68113117570
The recall comes in response to testing performed by ABC News Station WJLA-TV which found pentobarbital present in 60% of cans of Gravy Train dog food tested.
"After months of tests and re-tests, one brand repeatedly came back positive for pentobarbital.
In total, we tested 15 cans of Gravy Train. Nine cans — 60-percent of the sample — were positive for pentobarbital. And while the levels detected were not lethal, under federal law they are also not permitted at any concentration."
While Smucker's makes the claim that the levels of pentobarbital found in their food "does not pose a threat to pet safety," its presence in pet food is strictly prohibited in ANY amount. Further, oral exposure to pentobarbital can cause drowsiness, dizziness, excitement, loss of balance, nausea, nystagmus (eyes moving back and forth in a jerky manner), inability to stand, coma and death.
At this time, it has not been proven how a drug commonly used in the euthanasia of dogs, cats, and horses – the use of which is prohibited in the euthanasia of animals intended for use in pet food – is turning up in the recalled products.
Gravy Train is made by Big Heart Pet Foods and owned by the J.M. Smucker Co. Big Heart Brands is also the manufacturer of multiple dog and cat food brands including Meow Mix, Milk Bone, Kibbles'n Bits, 9 Lives, Natural Balance, Pup-Peroni, Gravy Train, Nature's Recipe, Canine Carry Outs, Milo's Kitchen, Alley Cat, Jerky Treats, Meaty Bone, Pounce and Snausages.
Following WJLA-TV's investigation into the pet food, Smuckers issued the following statement regarding the presence of pentobarbital:
"A commitment to making only the highest quality products has been the driving force behind our business for more than 120 years. This commitment to quality has long been demonstrated by our comprehensive quality assurance policies and procedures, which are designed to provide consumers with the quality products they expect. Earlier this week, we were made aware of WJLA's claims related to nine cans of Gravy Train® wet dog food. Since we learned of this information, we launched and are conducting a thorough investigation, including working closely with our suppliers, to determine the accuracy of these results and the methodology used. While we are confident in the safety of our products, should additional actions be required, we will communicate that quickly to consumers and our retail partners. We are a company that loves pets and understand the responsibility we have in providing high quality food for the pets our consumers love. We will continue to do whatever it takes to ensure the safety of our consumers' pets in the same way we would our own."
Days after that statement was made, a voluntary market withdrawal (recall) was issued.
The FDA also told the news station that they "will investigate the matter and take appropriate enforcement action."
To contact the FDA, Smucker's or Big Heart Brands regarding this issue:
FDA: 888-463-6332
Smucker's: 888-550-9555
Big Heart Brands: 415-247-3000
If you currently feed any of the above named products, discontinue feeding immediately and return to place of purchase. If your dog is showing ANY signs of illness, contact your veterinarian immediately and save any uneaten or unopened cans for possible testing.