"This post contains affiliate links, and I will be compensated if you make a purchase after clicking on my links."

by Angela Marcus, Co-founder of getyourpet.com
Let's face it: holidays are in equal parts terrific and stressful. For your pet, in particular, any change in the routine can cause anxiety. So, go ahead and spend long days out shopping; late nights wrapping presents; and weekends attending holiday gatherings or baking cookies to share with friends and family. But remember to keep Fluffy and Fido in mind and even incorporate them into the festivities. Hey, they are family, too! Here are some holiday tips: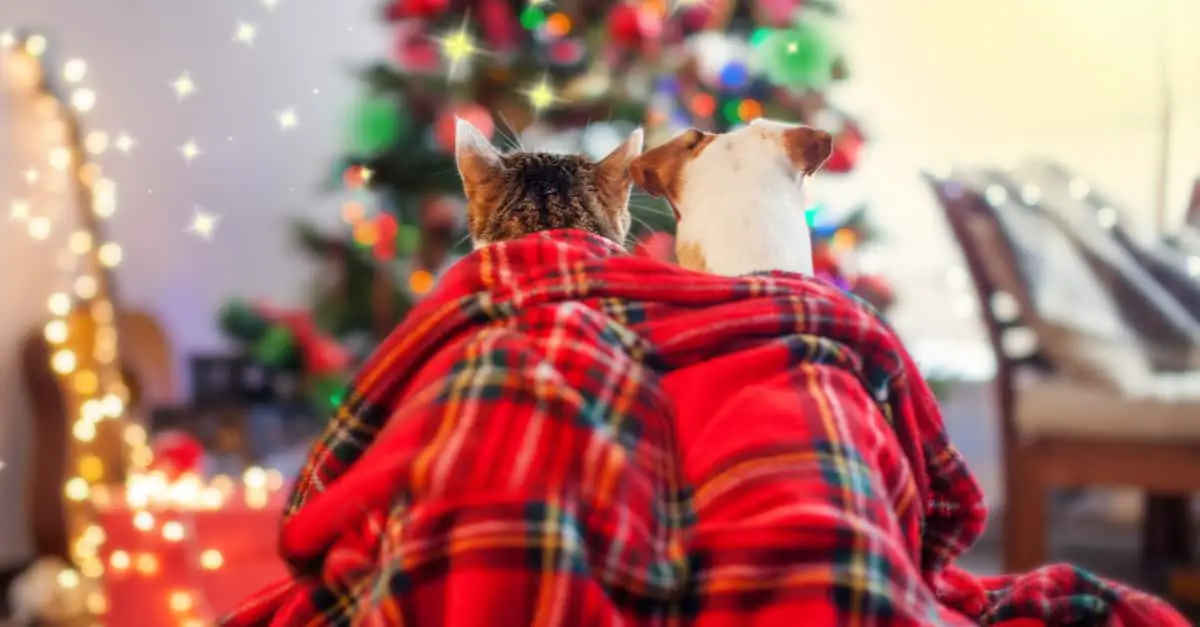 Bake Holiday Pet Treats:
Research treat recipes that have a holiday flare, like dog-friendly gingerbread cookies and sweet potato with salmon treats for your cat. Don't forget to make extra and share with your dog's and cat's friends too!
Make a Donation in Your Pet's Name:
Select a deserving local animal shelter and make a donation in your pet's name to help homeless dogs and cats in your community this holiday season.
Photo with Santa and Your Pet:
Check your local pet supplies stores for designated days to get an image of you and your pet with Santa Claus.
Binge Watch Holiday Movies Together:
Snuggle up with your dog or cat and a blanket on the couch and binge watch some pet-friendly holiday movies like "A Dog Named Christmas" or "The Nine Lives of Christmas." Check out The 7 Best Holiday Movies to Watch with Your Dog
Replace the Holiday Plants with Safe Alternatives:
When decorating your home for the holidays, remember to ditch the dangerous decor. Mistletoe, Poinsettia, and Holly can all be toxic to our furriest family. Opt for these 5 dog-safe holiday plants instead!
Make an Ornament for Your Pet:
Create an ornament for your pet like a clay paw print with his/her name on it and hang it on the Christmas tree.
Hang a Pet-Friendly Stocking:
Buy a Christmas stocking for your pet and write his/her name on it and hang it along the mantle or fireplace with the rest of the families' stockings.
Include Your Dog in Outdoor Activities:
When appropriate, include your dog in family outdoor activities like a holiday hike, hanging decorations or caroling around the neighborhood.
If you don't have a furry friend to spend the holidays with, consider adopting a pet this season. There are thousands of pets who would love to share in these activities – it'll be the best gift you've ever received, I promise!
Get Your Pet is an online community that connects people who need to find a new home for their pet with people who want to adopt a pet like theirs. Animal shelters and pet rescues do wonderful work, but the current, shelter-based system for pet adoption is in crisis, and it needs our help. Get Your Pet is a simple, smart and humane way to keep pets out of shelters, one that also increases shelters' ability to care for the homeless and abused animals that can benefit most from the amazing work they do.
The website, getyourpet.com, a revolutionary pet adoption site that helps lovable pets go directly from one good home to another rather than to a shelter, and is now available across the U.S. The site offers a simple, smart approach to pet adoption, enabling people who need to give up a pet to connect directly with people who want to adopt.