"This post contains affiliate links, and I will be compensated if you make a purchase after clicking on my links."
If you have dogs, you know that mealtimes are important. As creatures of habit, dogs prefer being fed at the same times each day. Portion control, keeping food fresh (and tasting its best), and tracking food consumption are all important for weight management and early detection of potential problems. But, unless you're home 24/7 to measure, serve, monitor, and track everything, it's easy to miss early warning signs or subtle changes in food habits.
But, fear not, in this amazing age of technology, there are solutions to these problems! Automatic feeders are a perfect solution for anyone who has to commute or has long work hours that make it difficult to feed their dogs on time each day. They're also great for those who have dogs with medical issues that require several smaller feedings throughout the day on a consistent schedule. There are even some that can order more food when they detect that you're running low!
Remember, automatic feeders are designed to help you monitor and dispense food throughout the day, not to replace a pet-sitter while you take a week abroad! It's important that someone is available to care for your dog every day.
That said, here are our picks for the best automatic feeders for dogs:
Factors we considered in choosing the Best Water Fountains for Dogs:
Size: One consideration when choosing an automatic feeder for a dog is the size. You don't want it to be so large that it takes up too much space or holds food for so long that it goes stale. On the other hand, a feeder that needs to be refilled every day is probably too small.
Ease of Use: There's a huge variety of feeders available for pet owners, but some of them can be tricky to use. Those that are difficult to program or impossible to clean didn't make the list.
Programmability: For those who have dogs with medical issues or those who have unusual schedules and aren't always available to feed their dogs, it's important to use a feeder that can be programmed to dispense an accurately measured amount of food at a certain time.
Appearance: While this isn't the most important factor, the feeder's appearance does play a role in the purchase decision. We considered whether our top picks would be an attractive addition to your home.
And the top picks are…
Best Overall Automatic Feeder for Dogs:
PetSafe Healthy Pet Simply Feed Automatic Feeder
Pros: The perfect automatic feeder will keep your dog's food supply fresh and dispense the proper amount of food on a schedule. It should also be affordable, durably constructed, nice to look at, and easy to clean. The PetSafe Healthy Pet Simply Feed Automatic Feeder checks all the boxes.
The PetSafe Healthy Pet Simply Feed lets you schedule up to 12 meals a day for your furry friends. With portion-controlled meals, you can easily manage your pet's weight. If your dog tends to eat too quickly, set your feeder to the Slow Feed mode to slowly dispense meals and help prevent upset tummies or "scarf and barf." The pet-proof design keeps pup's prying paws from stealing food. After it gets messy, you can wash the BPA-free plastic components and stainless steel bowl in the top-rack of the dishwasher.
Cons: Some users have complained that it can be tricky to figure out how to make a feeding schedule.
"I have tested this thing multiple times and each time it has been spot on with the feeding amount and time of feeding. It has never jammed. It is easy to clean and see food level. My dog, a Mini Schnauzer, has no issue with getting to the food. I can't think of a single negative in my case. This does exactly what I need an auto feeder for and does it without compromise. I would not hesitate to recommend this to anyone." -Mike
Click here to shop for your PetSafe Healthy Pet Simply Feed Automatic Feeder
Best On-A-Budget Automatic Feeder for Dogs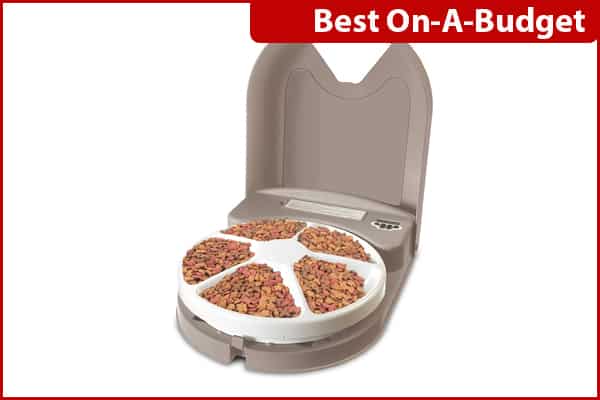 Pros: This automatic feeder lets you give your dog up to 1 cup of food, 5 times per day. Great for small to medium-sized dogs or cats, each bowl in the feeder can hold up to 1 cup of dry food. If you've got a dog that likes to indulge and are concerned about their weight gain, schedule smaller meal portions over the day to help them get back to a healthy weight. When the feeder gets messy, place the removable insert in the top-rack of the dishwasher for convenient cleaning. While it's intended for use with dry food, many users have successfully fed their dogs a wet food diet using this feeder. Additionally, if you have a dog that requires medication at set times throughout the day, this feeder can be a lifesaver, literally.
Cons: The feeder will need to be refilled often, as it only holds enough food for 5 feedings. Some people report problems with the rotating tray not lining up properly.
"I don't worry about my dog's pill schedule. My dog is in heart failure, has pulmonary hypertension and arthritis. She is on 2 different pill schedules and some of her pills need to be taken hours before or after meals. I work a lot of hours and have felt terrible about not being able to space out her medications correctly. She is an old 12 lb. Chihuahua and did show some interest in chewing the opening bigger in the top at first, but lost interest shortly after. I wrap her pills in liver sausage and they are fine in the compartments everyday. I started over the weekend to watch her to make sure the timer worked and that she would get to the pills. Even though she's deaf, the vibration wakes her up and she goes right for her "treats." – Staci S.
Click here to shop for your PetSafe 5 Meal Pet Feeder
Best Premium Automatic Feeder for Dogs
PetSafe Smart Feed Wi-Fi Enabled Pet Feeder
Pros: For those who want only the very best for their dogs, we present the impressive PetSafe Smart Feed. Is your dog out of food? Does your dog need to eat small portions multiple times a day? Do you want to make sure your dog is being fed on schedule? There's an app for that! That's right, the Smart Feed comes with its own smartphone app! Alerts remind you when the food level is low and when your dog has been fed. What's more, this feeder is Alexa-enabled—you can ask Alexa to feed your dog a snack. It can also be set up with Dash to automatically order new food from Amazon when it detects your supply is low!
The feeder holds 24 cups of dry food in its BPA-free plastic hopper. Meals can be scheduled for up to 12 times daily in sizes from 1/8 cup to 4 cups per meal. The optional Slow Feed setting dispenses meals in small amounts over 15 minutes for pets who tend to eat too quickly. The Feed Now option lets you serve a meal on demand any time from the app or with the push of a pet-proof button on the feeder. It includes a stainless steel bowl that is easy to clean and stays put under the feeder.
Cons: While we haven't personally had any problems at all, some users have reported trouble with the wifi connectivity. There's a "feed now" button on top of the unit and one of our dogs quickly learned that he could step on to feed himself any time he wanted. Fortunately, that button can be disabled within the Smart Feed app!
"My dog is tech'd out to the max. This feeder is awesome and has been absolutely reliable and slick. I have had this in use the entirety of 2019 and it has allowed us to be worry free. Our veterinarian even commented on how tremendous in shape our dog is. We also have a continuous water fountain that holds nearly 4 gallons and is always filtered fresh… The feeder is a bit steep but I have zero worries about my dog being fed since my phone alerts me every time he's fed. The only issue we have had was our dog learned how to dismantle or remove the lid. So we had to be crafty and came up with a good solution to prevent this any further. – Brodie B.
Click here to shop for your PetSafe Smart Feed Automatic Feeder
Notable Mentions:
Because there are as many varieties and styles of feeders as there are of dogs, no single automatic feeder will be perfect for every situation. With that in mind, we couldn't ignore these others!
Best Gravity Feeder: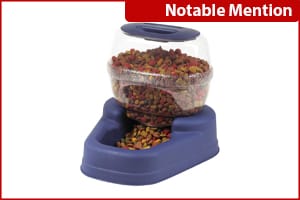 Your pet will always have plenty of fresh food thanks to Bergan's Petite Gourmet Feeder. This gravity-fed pet feeder comes with a wide, convenient opening for simple cleaning and filling. The lid helps prevent spilling and it is designed specifically to help distribute food slowly into the basin. The Gourmet Line of feeders and waterers releases food and water at a slow, steady pace. The wide, stable base helps prevent feeders from tipping over. Made in the USA, this BPA-free feeder holds up to 6 pounds of dry food for your pet. This may not be the best option for those dogs who tend to overeat, as it will provide a constant supply of food.
Microchip Feeder for Dogs That Steal The Cat's Food: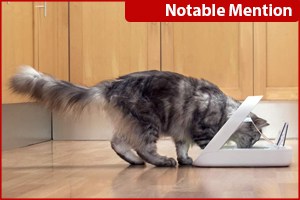 Perfect for families with both dogs and cats! The SureFeed Microchip Pet Feeder is ideal for multi-pet homes that deal with food guarding, food stealing, and other aggressive behaviors at pet meal-time; as well as, being great for any homes dealing with feeding a special diet or expensive prescription foods. Through the pet's microchip or RFID collar tag, the Feeder senses when that pet is within range and either opens or closes the lid over the food bowl to control access. The Microchip Pet Feeder is extremely easy to clean — simply hand wash the bowl and run a damp cloth over the Feeder unit. Only the animal whose microchip is linked to the bowl can access the food inside!
*As part of our review process, The Dogington Post received sample product to test. Our opinions and recommendations are unbiased and remain our own.
Found this review helpful? Pin it!